Thanksgiving Day
---
1. Format Text
To get started, open the "Thanksgiving Day" document in your class work folder on Z:
Format Font
Select all (CTRL+A) and change the font type to "Tahoma" and size to "12". 
Your name
Change "name" to your first & last name (under the "Thanksgiving Day" title at the top).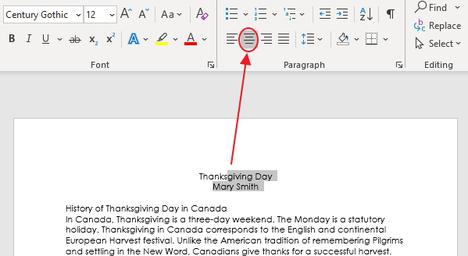 2. Insert Pictures
Insert pictures
Click anywhere on your page. Go to INSERT and choose Online Pictures.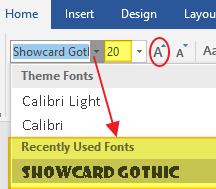 Find two photos for your page:
1. Top of the page - should be a wider type of picture, but not with any words in it!
2. Side picture - can be any type of picture, can have writing in it.
CTRL-click to select more than one picture, and then Insert.
Size them down a bit if they're really big.
Move & Arrange Pictures
Click at the top of the page before the page heading "Thanksgiving Day". Hit Enter. Click and drag one of the pictures so it's on that empty line.
With the other picture, add Wrapping "Tight" or "Square" and move it to the bottom right of your page in the empty area.
You should have something like this...
3. Page Heading
Center
Select the first 3 lines with the picture, page heading and your name, and center them.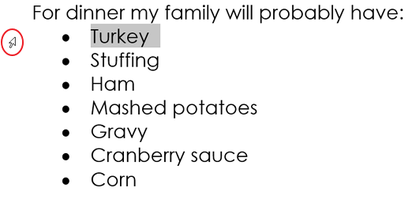 Font type
Select the page heading text "Thanksgiving Day" ... 
set the font type to "Stencil" or "Snap ITC"
set the font size to "28"
You should have something like this...
4. Section Headings
First Heading
Select just a bit of your page heading, not the whole line.
Click on the Format Painter and drag the mouse over the first heading "Thanksgiving Day in Canada".
When you've painted over the line, it'll be the same font type/size/style as the page heading...
So with it still selected, pump down the font size until it fits on one line. 
Also change the Word Style so it's not exactly the same as the page heading.
So now it's something like this...
Other Headings
Select the first heading "History of Thanksgiving Day in Canada".

Double-click on the Format Painter. 

Paint over the other 2 headings so they're all the same font type, size and style.

Then click on the Format Painter to turn it off.
5. One Page
Text on extra page?
If you have a second page with text on it like this...
... then reduce the size of your top picture until everything is on one page.
Extra blank page?
If you have an extra page like this (blank, no text on it)...
Click on the extra page anywhere and Backspace/Delete to get rid of any extra lines.
6. Bullets
Select each list and make them bullets - click on the Bullets toolbutton (on the HOME toolbar or right-click on your selected text)
So they're just normal lists...
Symbol Bullets
Select one of the lists and go into the bullet options (right-click or toolbutton's drop-down menu) and choose "Define New Bullet".
For this list select Symbol. 
Go to font "Symbol" or "Wingdings" and pick something you like.
You'll have something like this...
Picture Bullets
First find a clip art picture of something you want to use and save it to an easy-to-find place on your computer (Desktop, Documents or Pictures folder).
Then select the other list, and go again to "Define New List" again but this time choose "Picture"...
Click on "Browse" to insert a picture from your file.
Browse to where you saved your clip art picture. Then you should see it show up on the page...
If you zoom in on your bullets, you see them more clearly...
You're done. Save it and zoom out to 70%. Come and get it checked off.